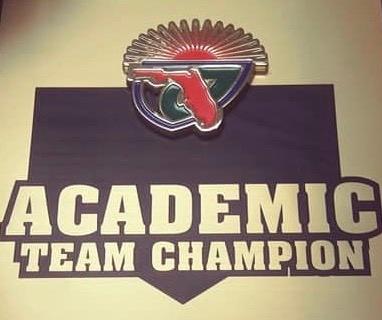 The Academic Team Champions for the spring of 2019-20 have been announced, and the final classification standings have been calculated as well. Congratulations to Plant (7A), St. Thomas Aquinas (6A), Belen Jesuit (5A), Pine Crest (4A), Berkeley Prep (3A), Aucilla Christian (2A) and Blountstown (1A) for being overall classifications winners!
Class 1A Schools Cumulative Point Total: Blountstown (69), Fort Meade (30), Jay (29), Trenton (20), Northview (20), Freeport (14 ), Hilliard (7)
BHS had the #1 Academic Team in the state in the 1A classification in: Football, Volleyball, Baseball, and Softball.
Other sports ranked high in 1A as well:
Girls Basketball #2
Boys Basketball #3
Girls Cross Country #5
Girls Weightlifting #7
Boys Weightlifting #13
Boys Cross Country #13
Track #18
Congratulations to our student athletes, coaches, teachers and staff! Keep winning on the field/court and in the classroom! It's great to be a Blountstown Tiger!